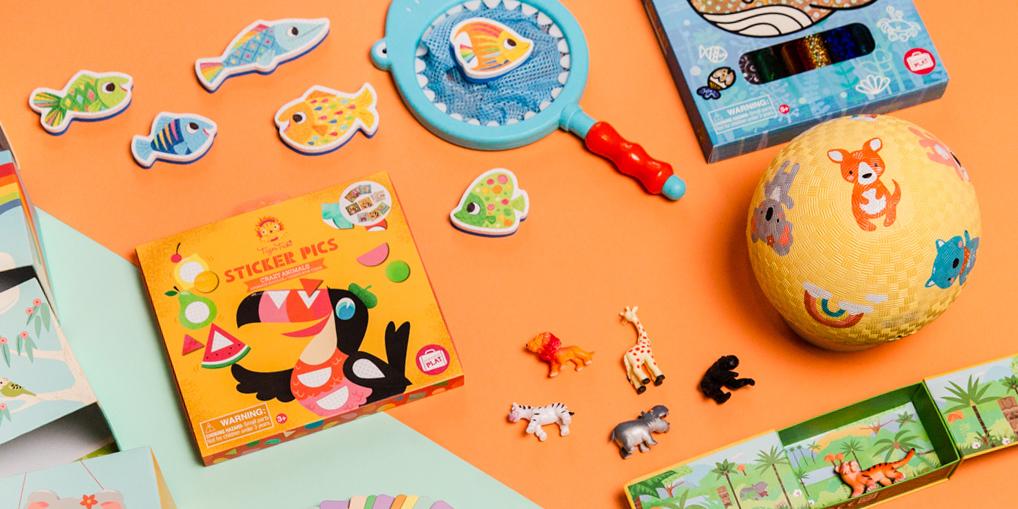 From lions to kangaroos, tigers and toucans too! Kids will go wild for this collection of critter-centric gifts, designed to help them bring the animal kingdom to life! From creative kits to active toys, we cover the gamut of earth, sea and air creatures with products perfect for the junior animal fanatic in your world.
Imitating bird calls has fascinated people since the dawn of time. The tiny twitchers (birdwatchers) in your house will love these cheerful Chirpy Bird Whistles in two adorable Aussie budgerigar designs. Fill Chirpy Bird with water and blow into the mouth piece (tail). A beautiful warbling bird call plays out. Also plays a long straight whistle without water.
Some of the world's largest and coolest creatures live in the jungle. We've shrunk them down for the pocket sized Jungle Tribe - perfect for on-the-go wild adventures. Gorilla, zebra, lion, giraffe, hippo and tiger are all packed up in a super compact, magnetically sealed box that converts to a beautifully illustrated jungle back drop for play and display.
Dive into an underwater world filled with incredible animals like whales, turtles, crabs and seahorses. Foil Art - Under the Sea gives the mini marine biologist in your house the chance to bring their favourite sea creatures to life with a sparkling rub of holographic foil. End result: shimmering oceanic artworks for the bedroom wall.
Blame the Baby Shark song but there is no denying how much kids LOVE sharks right now. Toddlers can really sink their teeth into Shark Chasey - Catch a Fish, a bath toy designed for fun in the tub. Green fish, blue fish, yellow fish, pink! Swim the big mouth shark net through the water and scoop and catch as many fish as you can.
How lucky are we? Australia is home to some of the most interesting and unique wildlife in the world. Gumtree Buddies Nesting Blocks presents the 'best of the bush' — six animal cuties including the red kangaroo, wombat, echidna, platypus, koala and the fresh water crocodile. A great way to introduce little nippers to the unique world of Aussie fauna (plus numbers, shape recognition, spatial relations and colour too).
Pick an animal, any animal! Flash Cards - Animal ABC has 26 cards with letters and animals all connected – and an alliterative description to match. Crazy crocodile, kicking kangaroo and of course the terrific tiger! Kind of like a portable zoo, these cute illustrations help toddlers develop alphabet recognition and animal identification skills.
Animal All-Stars Colouring Set showcases extraordinary animals from around the world. Young animal lovers will adore colouring in this magical menagerie, including African elephants, the noble lion, gentle gorillas, playful pandas, spirited seals, and our very own namesake the mighty tiger — brought to life with colour and stickers.
Cats, crocodiles, toucans and llamas. A bunch of kooky critters getting up to all sorts of crazy capers. Sticker Pics - Crazy Animals is the perfect portable play pack for kids. Eight fun animal pictures and two sheets of brightly coloured PVC stickers help kids recognise and match colours and shapes.
Bounce, throw, catch, kick or roll — did you know that every animal on our Play Balls - Gumtree Buddies is an Australian native animal? And most of them are found nowhere else in the world! The red kangaroo is the largest marsupial in on earth, the echidna and platypus are the ONLY egg laying monotremes, and the wombat… well let's just say they're the only animal anywhere whose poo is cubed shaped! You read it here first!
Tell us below your family's favourite animals that you'd love to see immortalised on a Tiger Tribe product!